Race Information
  Race Day Schedule  
B-tag number pickup from 7:00am until 8:30am.
Half Marathon start: 9:00am
5K start: 9:15am
  Directions    From I-89, take exit 10. Follow signs to Route 2. Take a left onto Route 2 east. Go through downtown Waterbury. The start/finish is on the right at the horseshoe entrance to the state office complex.
  CVMC Sports Therapy    Stop by the Central Vermont Medical Center Sports Therapy tent to get injury prevention tips and stretch out on a foam roller after the race from one of our friendly physical therapists or athletic trainer. From prevention to performance enhancements, the CVMC Sports Physical Therapy Program is focused on keeping you active and healthy!
  Volunteers    Without volunteers, it would not be possible to put on a race like Leaf Peepers. Course marshals, water stops, post-race food, and registration are just a few of the essential jobs being done by volunteers. Being involved with an event like this is a very rewarding and satisfying experience. If you would like to be a member of the Leaf Peepers 2019 team, please contact June Burr at jaburr@gmavt.net to sign up.
  Divisions    Male and female: 18 and under, 19-29, 30-39, 40-49, 50-59, 60-69, 70-79, 80 and over.
  Awards    Great local Vermont awards for first male and first female finishers and for each division, three deep.
Awards will be based on gun time.
  T-shirts    The famous Leaf Peepers long-sleeve t-shirt is included in your entry fee.
  Amenities    Post-race refreshments include KC bagels, Cabot cheese, Cold Hollow cider, Keurig Green Mountain coffee, Vermont Pure Spring Water, Champlain Orchards apples.
  Timing    Chip timing by Granite State Race Services. Photography by Cox Sports Photos.
  Water    Water stations approximately every two miles serving Vermont Pure Spring Water. Gatorade at the 6 and 9 mile water stop, compliments of RGS Energy.
  Facilities    Portolets near the start/finish area in the state office complex. No changing/showering facilities are available.
  Race Results    Full results, including gun and chip times, will be posted at www.coolrunning.com and www.cvrunners.org.
  Race Rules  
No baby strollers.
No unregistered runners.
No walkers.
No dogs.
Headphones are discouraged for safety reasons.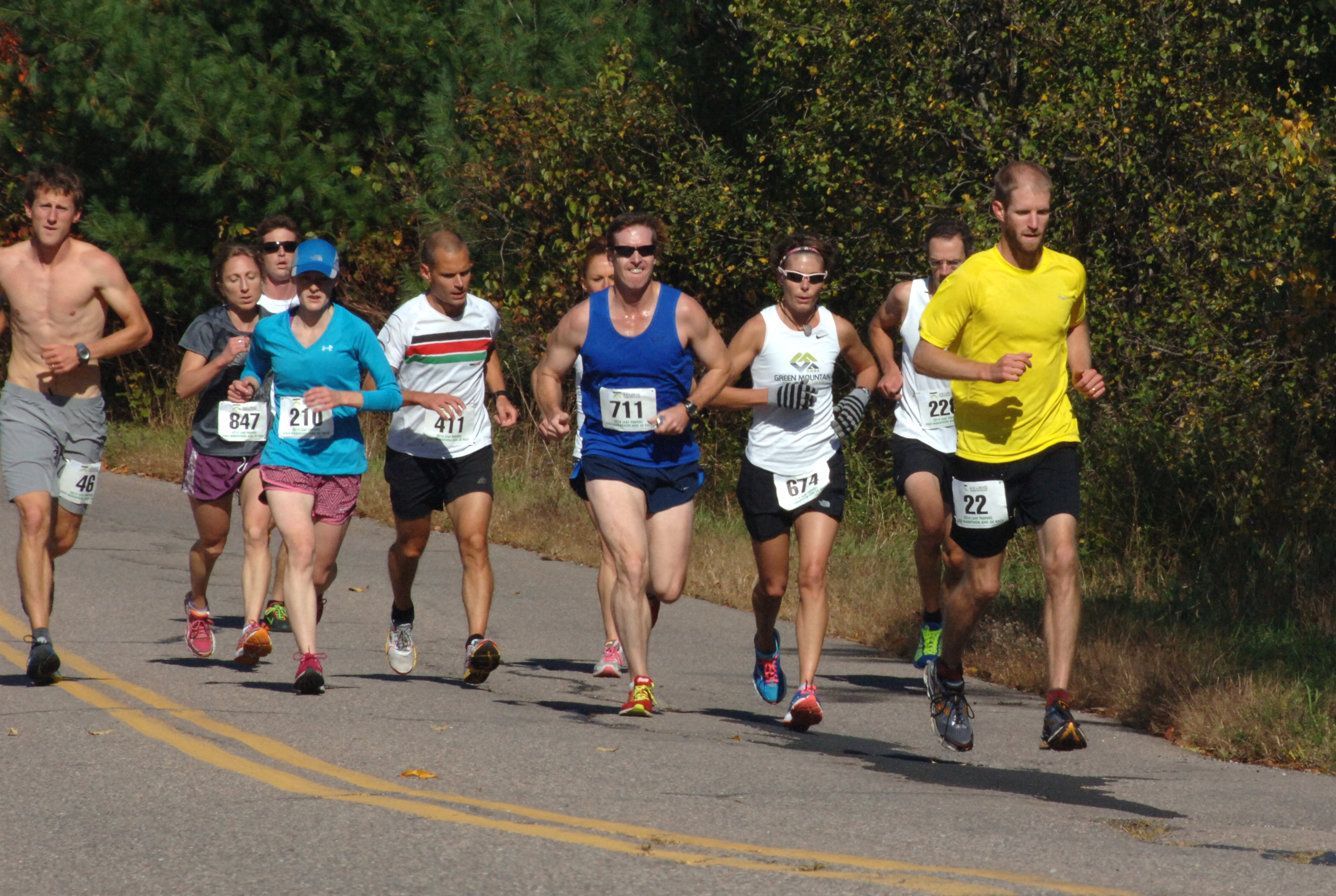 on Perry Hill…
  Race History  The first running of the half marathon was in 1984, and the 5K began in 1990. There have been a few course changes over the years, the most significant being the switch to the Perry Hill course for 2013 through 2018.